Confessions NOT Attending Elevate 2018: How to Make the Best of It
It all started Saturday night.
First, it was Facebook.
Then, it was Twitter.
#5amclubins dinner – thanks to @zincinsurance @sethzaremba what a fantastic group pic.twitter.com/4cIEBhXIdZ

"" Tracy L. Cotton (@TracyLCotton) June 24, 2018
Finally, Instagram.
It quickly became a perfect storm of notifications lighting my phone up from every platform simultaneously.
You've seen all the social media posts by now, too.
It's like that party in high school that all your friends are going to, but your parents wouldn't let you, right?
One look at (inset social media platform) tells you that you missed your chance.
Then it set in. I was the only one not at Elevate.
Wait"¦ You didn't go to Cleveland, either?
So it wasn't just me?
There's more of us?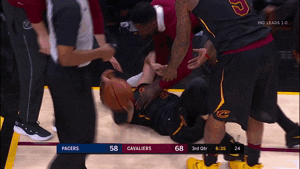 Phew"¦okay, I'm good now.
We all have excuses reasons why we didn't go this year.
Maybe you had vacation.
Maybe you had large accounts renewing at the same time.
Maybe your agency had several things in the pipeline right now and needed you around.
Maybe you didn't get buy in from your agency.
Maybe you thought to yourself, "There's always next year."
You tried, but tickets were sold out.
Regardless of the reason, the initial outcome for you and I was the same. We were not in Cleveland June 24-26th.
Don't miss the big picture here.
It's not actually about missing Elevate.
It's what you do next that matters. Same goes for the folks that went to Elevate.
Batter Up
"Insurtech" is still happening (I think).
"Disruption" is still a thing (kind of).
Technology in our industry, how we do business, and market to customers/prospects is rapidly evolving. (Okay, I know that one is legit)
Starting today, you're up to bat and the game may very well be on the line.
Maybe you're even up a couple runs, but the game is far from over.
READ NEXT: Succession Planning: the Insurance Industry's Silent Killer
What you actively decide to do today, and moving forward, is what will determine what happens next.
Yes, missing Elevate sucked.
The value of the experience you would have gotten at every session would have no doubt been an advantage over your peers.
It wasn't just the sessions either. It was the outside networking you and I missed out on.
It was meeting all the agents, company reps, etc. that could have sparked the conversation which would ultimately had lead us to insurance world domination.
A bit over the top?
Don't worry"¦there's good news here.
I may not be able to help you with that first part, but I can certainly help that second part.
We're not stuck in the pre-social internet world anymore. We're in the digital age now, baby!
And I would be willing to bet you every speaker and attendee would gladly connect and have an open conversation with you or answer a question you have.
Finding Accountability Post Elevate
Don't know where to start? Let's run through these Do's and Don'ts, shall we?
DO: Dial in your focus and write down the one thing about you or your agency that you are going to change and set an expiration date just like it's your most coveted account because it may very well be.
This isn't a feel good, temporary "hey I'm going to try"¦"
Write this down and find someone to hold you accountable.
Reach out to that agent you know and respect online or even within your community
Email/tweet me and tell me what yours is, and we'll hold each other accountable.
WATCH NEXT: Have You Found Your People
They preached this at Elevate, and I promise you it's true.
When we come together, we can all win.
Don't hold that idea back because you're worried that agent somewhere else will steal your idea. We need each other's help along this journey.
My one thing is automation of our processes.
We'll do fact-finding to see what internal processes make sense to be automated first, explore our options to make these a reality, and then implement.
Sure, there will be more steps involved along the process, but I want to keep it simple here.
My (lofty) expiration date is October 1st. I want to be able to test these systems and work out as many kinks as possible so that come January 1, 2019, we are off and running.
The point here isn't about saying "We're automated!" and taking work of other people's plates.
It's about what it can do for the future of our agency.
DON'T: Write something down, and not follow through.
Don't be that guy (or gal).
You're better than that.
Now is your time.
Let's do this together.
DO: Drop by the #5AMClubIns sometime. Better yet, join us. Everyone's welcome. The more insurance folks we have here the better we all can become.
DON'T: Try and read the entire group thread.
It's not possible.
Seriously, this thread has been going on for months, and you'll end up down a rabbit hole reading tweets that are six months old and realize you lost an hour or more of your life.
DO: Join Agency Nation University.
This isn't some kind of paid advertisement.
Heck, nobody even asked me to write this article.
LISTEN NEXT: What Is Agency Nation?
Give Without Expectation of Reciprocation
I'm pretty sure Ryan said that.
Maybe it was Gary Vaynerchuk.
Same difference.
Back to my soap box"¦
This is an honest to goodness testimonial.
The value I've gained from this membership over the past six months has been nothing short of incredible.
The #5AMClubIns thread is great, but the gold you don't see is reserved for the private Facebook group.
It's where the magic happens.
It's where conversations, ideas, suggestions, etc. can really start to take that deep dive.
Not only that, did you see this vlog Sydney did with Seth Zaremba of Zinc Insurance on how they market their trucking niche?
Unless you were living under a rock, you saw it once, and probably re-watched it multiple times.
Now, take that short video that was jam packed with killer ideas, and add over 40 more short episodes just like it.
Oh, you didn't see those yet?
It's because you haven't joined Agency Nation University.
There are also courses on dominating Google Search and another on crushing local SEO in 2018.
And there's plenty more where that came from.
DON'T: Put off joining ANU any longer.
The longer you wait, the further behind you will be.
And I promise you this"¦ You won't simply be able to watch the videos with Seth and Zinc Insurance one time and be done. You'll want to watch them over and over again just to make sure you didn't miss anything.
You'll do this because you'll find new nuggets you missed the first and second time around.
Bring on the Closer
Look, basketball is a touchy subject in Cleveland right now and it just got worse, so I've tried to make these subheadings baseball related because the Indians are good and everyone's happy.
You didn't need to read this post to know there's (at least) one thing your agency can and should be doing better.
Maybe you're like me and you've scratched the surface, but now you know it's time to dig into the trenches and really make progress on it.
I'll leave you with this breif Twitter exchange I had with the one and only Jeff Roy that should tell you everything you need to know.
The key is doing the important not the urgent. Turn off the social media, turn off your phone, turn off your email pop ups and get rid of the distraction. Block time to crush it. If you do the right activities it will lead to the right results. Launch – fail – Learn – fix pic.twitter.com/Cy07eXn1an

"" Jeff Roy (@jroy5) May 7, 2018
Get the good stuff
Insurance inspiration strikes weekly.